In a addition to our own boys, top quality dogs from other kennels have been used at stud by us to great effect. We would like to recognise the following handsome gentlemen:



Ch Heiderst Ghost Whisperer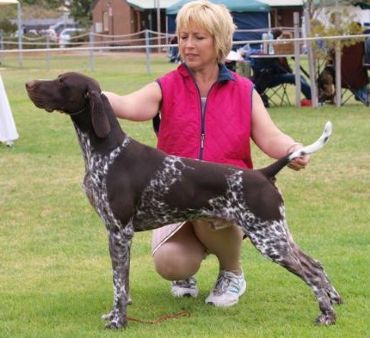 Casper is the sire of our "I" Litter. His lines complemented those of Dotti beautifully, both being descendants of our "Bailey" and both having a combination of Australian, US, English and German Lines. Thankyou to Heiderst Kennels for the opportunity of using Casper.
Sup Ch Can Ch FlwrCrk Takn Care of Business

Continuing our successful association with Heiderst (SA) and Flower Creek (USA)  kennels, "Cruiser" was sire of our "G" Litter. Thankyou to Raylene, Liat and Alex and Connie and Bill.
Am Can UKC Ch FlowerCreek Jazz-N-Bleugras
Sire of our "E" Litter by artificial insemination. This was an all Champion litter of two, including our Chip, Gr Ch Kobidan Evolution (AI), Australia's youngest Grand Champion to date. We would like to thank Connie and William James of Flower Creek Kennels, Michigan, USA, for allowing us the privilege of using Jazz.
Paris was the sire of our "C" Litter which included our Logan, Gr Ch Kobidan Caught N Bowled. He passed on his style and good nature to his pups. We thank the team at Heiderst for their friendship and support over many years.